MRS Conference Review: The Growth Agenda
March 21 2014
Another Tuesday morning session looked at 'ideas for triggering commercial success'. Three clients described how they have addressed specific business issues with research-led solutions. Mel Crowther reports.

<! pod><! pod>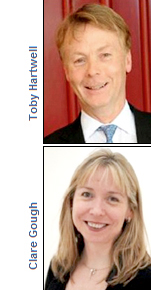 Reaching out to members

Saddled with a marketing strategy offering a plethora of discounted subscription options, many longstanding members of The Folio Society believed the organisation had moved away from its original aim of simply offering beautifully illustrated hardback books through a members-only club. MD Toby Hartwell (pictured) explained that while they still supported this aim, many members were 'playing a poker game' - waiting as long as possible before re-joining, in case a better offer came along. This behaviour was creating a cycle of declining loyalty.

A new approach to member recruitment was required - one which didn't just offer a financial reward, but also provided some sort of emotional incentive for becoming a member. Strategic consultancy Insight Connection was brought in to manage the research, and co-founder Janet Coates explained how her firm involved as many people as possible in the research process. Feedback ultimately highlighted that the society needed to recreate its brand, and that a complete overhaul of the sales and marketing process was also required. In addition, it was necessary to simplify the membership model, by reducing the number of available subscription options.

Changes were brought in last September, since when membership retention rates have already risen. Instead of running discounted promotional ad campaigns on the back page of the Telegraph newspaper, the organisation has now returned to its roots of engaging book lovers through the sale of beautiful books. And while just 67% of these members admit to actually reading the books they buy, people often buy them to collect, or as gifts.

Not only did the society use the insight gained from its research to understand its membership profile, it also used it to drive change across the company. Hartwell championed the initiative, and involved all 90 staff - from the Chairman down - in the launch and outcomes of the project.


Driving 'customer closeness'

Then Clare Gough (pictured) of Waitrose, Debbie Newbould of One MS and Carol Garbutt of Oxford SM described how Waitrose used research to bust long-standing myths about its customers, and drive mass awareness of customer needs across the business.

A series of 'customer closeness' events called 'Waitrose Pulse' was launched, to help dispel pre-conceived ideas about these needs. Senior staff were each invited to sponsor an event designed to answer a current business issue in their area, and the starting point was to immerse staff in the existing data and insight held by the business, in order to help frame the questions they wanted answered. Senior staff then spent time with customers - out shopping in store, or online in consumers' homes - to bring the data to life. Feedback showed that experiencing their customers' lives, energized partners to take action.

The final part of these full-day sessions was to bring everyone back to the office to discuss existing data with other people across the business, in order to challenge previously held assumptions, and to examine data from a different perspective.

Since the launch of Waitrose Pulse, around 400 senior partners have attended these sessions, and about one thousand hours of senior management time has been spent with customers. It is already part of the culture - no longer regarded as simply a research programme, but instead seen as a method of bringing insight closer to internal stakeholders which is fundamental to business success.


Identifying profitable segments

The final case study focused on Skype-like brand Vonage, which while well known in the US, previously had very little brand presence or awareness in the UK. With a challenge to grow the business this side of the pond, Marketing Director Roger Vigilance engaged ICM to help uncover which customer segments would be likely to drive that growth.

'Our internal data showed who was behaving how, but it didn't tell us why,' said Vigilance. In terms of numbers, the biggest segment was customers using the service to make international calls, but when it came to the most profitable customers, these turned out to be small office/home office (SOHO) workers, trying to establish a profitable image. If we could help them in a cost effective way, there was great scope for our business,' Vigilance added.

Home workers often experience problems with poor quality mobile phone service, so it was agreed that the SOHO demographic would be targeted with advertising communications focusing on Vonage's ability to enable calls using WiFi. A series of ads was launched which in the last year, resulted in a 35% increase in new customers, with average revenue per user up 3%. This year, the focus will be on honing in on new segments that haven't yet been activated.


All articles 2006-22 written and edited by Mel Crowther and/or Nick Thomas unless otherwise stated.