Omnicom-Publicis Deal Called Off
May 9 2014
The Omnicom-Publicis merger has been called off. Unforeseen complexities had slowed the progress of the $35bn deal (£20.65bn) to the point where the two parties apparently felt it was distracting and unsettling their businesses. Publicis CEO Maurice Lévy has also suggested it was becoming an Omnicom takeover.

<! pod><! pod>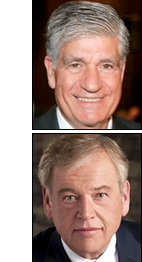 No termination fee will be paid by either company.

The proposed deal was first announced last summer and would have created a company with a combined staff of 130,000. It was envisaged as a merger of equals, but differences ranging from tax structures to more general company culture apparently proved too hard to reconcile for the groups. Omnicom President and CEO John Wren told the FT there was no one issue that had scuppered the talks: 'We thought the deal would be done in six months. Nine months later, we still had many of those [merger] requirements outstanding'. Uncertainty over who would hold key posts in the merged company, including that of CFO, was certainly one factor; another was the difficulty of getting approval for the proposed form of the deal from tax authorities in France, the Netherlands and the UK.

Just over a week ago Sir Martin Sorrell, CEO of current largest player WPP, told analysts he thought there was a '30% to 50% chance' the merger process would collapse. Of today's news, Sorrell said he was surprised only by how soon the breakdown had occurred, adding that the merger 'seemed to have been driven by emotion to knock WPP off its perch and, of course, by French charm', but in the end had proved 'a case of eyes bigger than tummy'.

Levy, 72, who had postponed retirement plans before the merger talks and will now have to address the issue of succession once again, said the decision to discontinue the process was 'neither pleasant nor an easy one to make, but it was a necessary one'. Merger plans had included a stipulation not only for a 50-50 split in equity but for a two and a half year period in which Wren and Levy would serve as co-CEOs - solving one at least of the key appointment issues. However, according to the FT, Levy said the threat of the deal turning into an Omnicom takeover of Publicis had become the 'real barrier' to a deal, and that Publicis group founder Marcel Bleustein-Blanchet would have 'turned in his grave' at the prospect. Levy told France's BFM Business television channel that his firm would not now seek an alternative partner, as 'life is very good' for the company on its own.

Similarly, for his part, Wren says Omnicom will have a bright future on its own, has accumulated 'an awful lot of cash', and will continue with its previously suspended share buybacks. Publicly at least, he is not taking seriously suggestions of a possible alternative bid for the smaller Interpublic group.

In a joint statement on last night's decision, the two said: 'We, of course, remain competitors, but maintain a great respect for one another.' Meanwhile WPP remains the market's biggest player and whatever his view of the rise and fall of the idea of 'POG', Sorrell will be happy enough with his group's reportedly significant client wins from among those unnerved by his rivals' brief affair.

Web sites are at www.publicisgroupe.com , www.omnicom.com and www.wpp.com .


All articles 2006-23 written and edited by Mel Crowther and/or Nick Thomas unless otherwise stated.