End of dunnhumbyUSA JV: New Firm for Kroger
April 27 2015
In Cincinatti, staff from dunnhumbyUSA, the joint venture between retail analytics pioneer dunnhumby and grocery giant The Kroger Co., are being moved into a new agency. To be known as 84.51°, this will be wholly owned by Kroger, will use dunnhumby's tools under licence, and will employ around 500 people.

<! pod><! pod>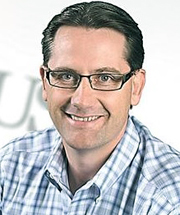 Financial terms were not disclosed but the companies say there should be no headcount reductions.

84.51° is the longitudinal co-ordinate of the location of the building at Fifth & Race streets in downtown Cincinnati, of which the new firm will assume ownership. In addition to this HQ building it has offices in New York & Chicago. Stuart Aitken (pictured), the former dunnhumbyUSA boss who is the new division's CEO, says the name reflects both 'a maverick culture' and an 'exploratory spirit', explaining: 'Like a longitudinal curve, we study customer behavior over a long arc of time to ensure that communication and offers are relevant to that person where they are in their life today.'

The firm says it will build on a decade of experience from its dunnhumbyUSA relationship and expand its use of innovative analytics and insights, viewing 'every decision through its impact on the customer' and 'thereby creating a sustainable customer engagement model'. The company will have a perpetual license agreement for the dunnhumby tools with a five-year service and maintenance guarantee.

dunnhumby Ltd will continue to operate in the US under its own name, and aiming to expand rapidly with the 'greater flexibility of the new arrangements' with Kroger. Current retail clients of dunnjumbyUSA will be seamlessly transitioned to dunnhumby, which will maintain its offices in Cincinnati, New York, Boston, Chicago and Sacramento but will no longer have access to Kroger's data. CPG companies currently serving Kroger customers and working with dunnhumbyUSA will be looked after by 84.51°, which can now also work with new partners and new tools, not just those of dunnhumby.

Rodney McMullen, Kroger's Chairman and CEO says dunnhumbyUSA 'has been a true partner over the years and their focus on the customer has been integral to helping us grow our relationship with our customers.' Aitken says 84.51° is 'founded on the principle that building the bottom line should be a result, not the primary objective', adding: 'We want everything we do - every decision we make - to be about the customer and what that person wants. To do that, our associates navigate the complex data landscape to reveal relevant customer patterns.'

The new company is online at www.8451.com .


All articles 2006-21 written and edited by Mel Crowther and/or Nick Thomas unless otherwise stated.