WPP's Sorrell Highest Paid FTSE 100 CEO (Again)
August 10 2016
WPP CEO Sir Martin Sorrell has once again topped the High Pay Centre index of FTSE 100 chief executives, after his remuneration package soared from £43m in 2014 to £70.4m.

<! pod><! pod>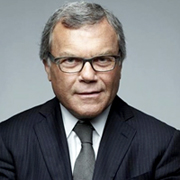 Independent think tank the High Pay Centre found that on average, FTSE 100 bosses earned 140 times more than their employees last year; with salary packages up more than 10% on the average of £4.96m in 2014. This finding followed Prime Minister Theresa May's warning of an 'irrational, unhealthy and growing gap' between exec salaries and those of their employees. In addition, according to campaign group Board Watch, none of the FTSE 100s five female CEOs was in the top ten best paid in 2014 or 2015, and ten companies in the index had no female exec directors and no women on the remuneration committees that set pay and bonuses.

Sorrell (pictured) continues to be the highest-paid FTSE 100 CEO, despite a third of WPP shareholders voting against his pay package at the company's annual general meeting in June. Nearly 60% of investors refused to back Sorell's salary package in 2012, but the proportion has dropped to around a fifth in each of the three succeeding years. He bought WPP in 1985 and built it from a start of two employees to the c.190,000 it employs today; with a portfolio of companies in the advertising, media, PR, branding, communications, digital, and marketing sectors, as well as across Data Investment Management (formerly known as Consumer Insight). Sorrell defended his current pay package, insisting: 'If WPP does well, I do well'.

Second on the FTSE 100 CEOs index is Tom Pidgeley, head of housebuilding business Berkeley Group Holdings, who nets a paltry £23.3m, compared to Sorrell's £70.4m. Stefan Stern, Director of the High Pay Centre described Theresa May's warning as evidence of 'momentum behind attempts to reform top pay', adding that the centre supports her proposals that 'companies should be obliged to publish the ratio between the pay of the CEO and the average worker in the business; and that the voice of the ordinary employee must be heard in discussions over executive pay.'

Web site: www.wpp.com .


All articles 2006-21 written and edited by Mel Crowther and/or Nick Thomas unless otherwise stated.