Kantar MBO Rumours as WPP Results Boost Share Price
April 30 2018
WPP has reported flat first quarter revenue, but a fraction better than some had predicted. The management of Kantar, which once again propped up the results table, are reportedly in talks regarding a £3.5bn MBO; while other reports say private equity firm CVC has replaced Nielsen as a possible buyer.

<! pod><! pod>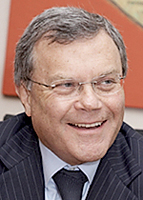 The results follow the sudden departure of Chief Executive Sir Martin Sorrell (pictured) earlier this month, which many analysts believe will lead to the break-up of the conglomerate he shaped. As Sorrell headed for the exit, Kantar was immediately tipped as the most likely candidate for a quick sell-off, and UK newspaper The Times reported this weekend that its long-time Chief Exec Eric Salama had moved immediately to sound out backers for a potential buyout, valuing the company at around £3.5bn. Salama is said not to favour the break-up of WPP, but to be preparing his so-called 'DIM' division for the eventuality.

Meanwhile the Financial Times has linked private equity group CVC Capital Partners with Kantar, reporting that it approached WPP about its potential sale 'in recent weeks following the termination of talks about a Kantar-Nielsen merger'. The FT says one of the Kantar-Nielsen 'deal structures' had valued Kantar rather higher, at around £4.3bn, according to 'one person with knowledge of the talks'. WPP as usual will not comment on possible negotiations, and Nielsen has also declined to comment.

The net result of today's financials and rumours was a jump in share price - the 'smaller-than-expected' fall in sales together with interest in the possible sell-off pushed WPP up almost 9% on the day - its best in a decade. However the firm has still lost more than a third of its value since a high of 1900p per share in mid-February 2017.


Group Results

The Group reported revenue down 4.0% at £3.555 bn, but allowing for currency changes and disposals, like-for-like revenue was up 0.8%. WPP prefers to measure 'revenue less pass-through costs', which it says is a better indicator of performance, and noted that this was £2.948bn, down 0.1% like-for-like. Analysts had predicted the latter might fall by 0.9 - 1.5% so the figure came as a pleasant surprise, helping shares to recover what they lost on Sorrell's departure.

Executive Chairman Roberto Quarta said the update was 'in line with our expectations' and that guidance for the full year was unchanged. He added: '[Joint COOs] Mark Read and Andrew Scott are providing the stability and leadership WPP requires, but there is no standing still. They have my and the Board's full backing to review the strategy, to come back to us with recommendations, and to move forward decisively to implement our vision for the Group'. In terms of whether anything might be sold off, he hinted: 'We will be keeping an open mind and will always go where value is for shareholders but the starting point is not a break-up'.

Quarta was questioned by investors about the handling of Sorrell's sudden departure, and said he had quit after the investigation had concluded but before the board had considered its implications, adding: 'The matter... was really what we consider to be a matter of privacy and therefore is a matter for Martin and hence the reason why we did not disclose'.

Read and Scott in their statement told investors that 'clients have expressed their continued support for and confidence in WPP', adding: 'This should not come as a surprise. As we said to our people across the Group, our companies and client teams are exceptionally good at what they do. They have their own strong leaders, who hold the primary client relationships. Clients have made it very clear that they value their partners within WPP'. Viewing the challenges faced alongside the group's strengths, the pair said: 'We intend to build on these strengths by taking a fresh look at our strategy, developing a vision for the Group that recognises the challenges and opportunities presented by the structural shifts in our industry, and executing resolutely against it.

'Our priority is to focus on growth. We will proactively address the under-performing parts of our business and we need to ensure that our capital is deployed to those areas that will grow fastest and maximise shareholder value'.


Results by Region and Business Group

In Q1, the UK led the way in like-for-like revenue growth with an impressive 5.4% - its share of Group turnover rose from 13.5% to 15%. Asia Pacific and Latin America also performed well, with North America and Western Continental Europe declining. North America contributes the largest share of the total, 35.2%. In Latin America, all of the Group's top five markets showed particularly strong growth, in all sectors, especially the Group's advertising and media investment management, data investment management and direct, digital & interactive businesses.

Worldwide, while Group like-for-like revenue was up 0.8%, for Kantar/DIM it was down 2.6%. Revenue for DIM fell from £640 in Q1 2017 to £596m, equivalent to 16.8% of the group total (previously 17.3%). The report notes that two areas, 'data investment management and advertising' were under 'continued pressure, particularly in the mature markets'.


Outlook / Comparisons

WPP repeated its guidance from March, when it said it did not expect to grow in 2018. Long-term, the business 'remains well positioned to compete successfully and to deliver on long-term targets'; with revenue and revenue less pass-through costs expected to grow 'at least in line with the industry average'.

For comparison with its rivals, Interpublic Group last week reported revenue of $1.77 bn for the first quarter, with organic revenue growth of 3.6%; Publicis Groupe recently headlined 1.6% first-quarter growth globally and 2.8% in the US; and Omnicom 2.4% global growth with a small decline (0.1%) in the US.

Web site: www.wppinvestor.com .


All articles 2006-22 written and edited by Mel Crowther and/or Nick Thomas unless otherwise stated.