'First' Cambridge Analytica Prosecution Ends with Fine
January 10 2019
SCL Elections, the parent company of Cambridge Analytica (CA), has been fined £15k for failing to comply with an enforcement notice issued by UK watchdog the ICO, relating to a request by US academic Professor David Carroll for CA to supply him with details of the data it held about him.

<! pod><! pod>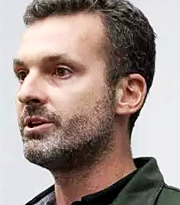 Last year, the ICO served a legal notice on SCL Elections, ordering it to give Professor Carroll (pictured) all the personal information the company held on him. While CA handed over some of the data, it refused to provide Professor Carroll with details relating to the decision-making process used to create it. At the time, CA reportedly said that Professor Carroll 'had no right to make a subject access request (SAR) any more than a member of the Taliban sitting in a cave in the remotest part of Afghanistan', because he was a US citizen requesting the information through a British company organisation.

Yesterday, at Hendon Magistrates court in London, district judge Kenneth Grant fined the company £15,000 plus costs of £6k, after administrators for SCL Elections entered a guilty plea to the charges. Information Commissioner Elizabeth Denham commented: 'This prosecution, the first against Cambridge Analytica, is a warning that there are consequences for ignoring the law. Wherever you live in the world, if your data is being processed by a UK company, UK data protection laws apply. Organisations that handle personal data must respect people's legal privacy rights. Where that does not happen and companies ignore ICO enforcement notices, we will take action'.

Last year, CA was declared bankrupt, amid claims that it illegally harvested data from more than 87 million Facebook profiles to target users with political ad campaigns. In October, the ICO issued the maximum £500k fine to Facebook, for failing to protect users' personal information in the CA data breach.

Web site: www.ico.org.uk .


All articles 2006-19 written and edited by Mel Crowther and/or Nick Thomas.