AGENCY
SEARCH PAGE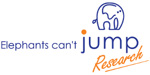 Get in touch with us...
Who to contact?
Bob Morrison
Address:
21 Little Portland Street
London W1W 8BT
Telephone:
0207 291 8000
Fax:
0207 436 5720
Email:
ellie@elephantscantjump.com
Web:
https://www.elephantscantjump.com
Elephants Can't Jump
New ways of working to help you achieve marketplace success.
Recent News:
DRNO
(Daily Research News Online)
COMPANY OVERVIEW
What we do...
Ensuring brand initiatives work in practice as well as in theory.
To have marketplace impact, we believe every research assignment should consist of three elements - consumer exploration or validation, within a competitive context, generating commercial outputs.
A unique team structure delivers these outputs - Senior Researchers, highly skilled in their particular fields, work with Brand Builders who possess the frame of reference to put research into perspective.
We use the most appropriate methodology for the task, be it qualitative, sociological or quantitative. To date we've completed work in 15 different countries across FMCG, financial services, retail, public sector and pharmaceuticals.
Number of employees:
5-9