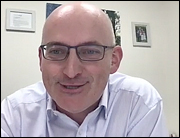 Zooming In On...
Eugene Murphy, Indeemo Founder and CEO
The second of our video podcasts on MrWeb / Daily Research News, recorded February 2021.
Indeemo's
diary study app
and
mobile ethnography platform
enable researchers, designers & brands to understand how humans really behave, in context and in-the-moment.


Posted 11th February 2021
Home pages:
Daily Research News headlines
-
Features section
.
Links to the archive and general search to appear here soon - this is the second in the series!
Key words: Eugene Murphy,indeemo,CEO,mobile ethnography,digital ethnography,BooHoo,debenhams,covid-19,digital transformation,remote research,experience research,omnichannel,qualitative research,new normal,2020 slowdown,budgets,2021 lockdown,2021 recovery,non-MR experience,smartphone video,everyday lives,interactive video diaries,in-the-moment,SaaS,research recruitment,longitudinal studies,diary studies,mobile screen recording,journey mapping,path to purchase,Instagram for qual,social network,uploading videos,uploading photos,mobile apps,what's in your fridge,shopping list,groceries,telehealth,pharmaceutical research,travelling for research,research budgets,in-person ftf research,face-to-face research,click and collect,shopping online,the future of shopping,mobile search,micro user interface,researching the mechanics of search,eye tracking,Qualtrics,customer focus,start-up priorities,experience management,XM,long game,Irish,Republic of Ireland,Dublin,Cork.
Recent Interviews
Zooming In On... Lars Long, Altiant CEO - posted 4th February, 2021