Obituary: William 'Jay' Wilson
March 25 2015
William 'Jay' Wilson, the former Chairman and CEO of Roper Starch Worldwide, died on Sunday at his family home in New London, New Hampshire, at the age of 77 after a battle with pancreatic cancer.

<! pod><! pod>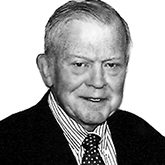 Born in Minnesota in 1936, Wilson worked as a coding assistant in Audits and Surveys as a summer job while still at high school. He went on to study at Yale and the University of Cambridge, where he gained a Masters in Historical Studies from Corpus Christi College, and was also a student at the University of Vienna. While living in London, Wilson took a position with Readers' Digest as International Advertising Development Manager.

His father, Elmo 'Budd' Wilson, was a prominent market researcher and founder of International Research Associates (INRA), and after Wilson's return to the US in 1967, he joined the family firm. When his father died a year later, he assumed leadership of the company alongside George Gaither and Helen Dinnerman. He remained in this role for three years, before taking the position of President and CEO at ailing- advertising research specialist Daniel Starch and Staff. While at the helm, he managed to turn around the company's fortunes, and he began a series of acquisitions starting with INRA in 1974, then the Roper Organization in the 1980s. The firm changed its name to Roper Starch Worldwide in 1993, and under Wilson's stewardship, revenue grew from $2m to over $80m - both organically and by multiple acquisitions (including those of Friedman Marketing Services and Response Analysis Corp). He was very proud of the fact that Roper was the first western research company to conduct research in Russia (before the fall of the Berlin Wall), and also one of the very first to enter the Chinese market.

In 2001, the business was sold to NOP World, which was then taken over by GfK in 2005. Before the latter sale, Wilson and former NOP CEO Simon Chadwick set up change management consulting company Cambiar, offering a suite of consulting services to market research agencies.

During his career, Wilson led methodological research into alternative questioning procedures for estimating magazine audiences, and in the mid-1970s he led a major piece of research on the topic of purchase influence and introduced the concept of 'interspousal influence' to the world of advertising. He was also responsible for a number of syndicated products that survive to this day including Starch, Roper Reports and Roper Reports Worldwide. In addition, he invested in what he saw as promising enterprises including Market Strategies, Focus Vision, Keller Fay and Cambiar.

Wilson served on Boards related to higher education in market research at the University of Texas at Arlington, the University of Wisconsin, Baruch College and Colby-Sawyer College. He also served as Chair of CASRO and as Co-chair of CMOR, was the US National Representative for ESOMAR, and for more than twenty years served on the Board of Directors for the Roper Center for Public Opinion, which provides an archive of social science data, specializing in that from public opinion surveys.

Chadwick comments: 'I have been fortunate to have had Jay as a colleague for over twenty years - first in CASRO, then in NOP and finally in Cambiar. Jay's motto, which we carry on to this day, was 'Have fun, do a good job, make money'. He lived that motto - and much, much more - to the last. We have lost a giant, a character and a friend'.

Wilson is survived by his wife, Gabi, six children and six grandchildren. The family has asked that donations should be sent to the W. Jay Wilson Memorial Scholarship Fund, c/o Beth Cahill, Colby-Sawyer College, 541 Main Street, New London, NH 03257.


All articles 2006-22 written and edited by Mel Crowther and/or Nick Thomas unless otherwise stated.