Infogroup Awarded $53.6m Damages in IP Theft Case
August 24 2018
Former ORC International owner Infogroup has been awarded $53.6m in damages, after a federal jury found its previous CEO Vinod Gupta and his new company DatabaseUSA.com had stolen Infogroup's intellectual property (IP) while deceptively implying that the two companies were linked.

<! pod><! pod>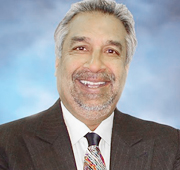 Gupta (pictured) was sacked from his role as Infogroup's Chairman in 2008, following an investigation which found him guilty of misspending millions of company dollars on private yachts, apartments, and use of the firm's jet plane to fly Bill and Hillary Clinton to political events. As a result of the investigation, Gupta agreed to pay back $9m over a five-year period - at the same time, he received $10m as part of his severance payment.

In 2010, after being sacked, he set up Database101 (trading as DatabaseUSA, Infofree.com and AtoZdatabases), with a team which included several of his former colleagues. A year later in 2011, Infogroup claimed that Gupta's firm had obtained its database from former employees, and was using it illegally. In the subsequent lawsuit, Infogroup said it had caught its competitor through the inclusion of a made-up company on its database and Gupta's firm was alleged to have sent this company advertising material just days after its inclusion on the list. In addition, Infogroup's suit also claimed Gupta's firm had poached more than thirty of its employees, some with confidential information said to have been obtained 'prior to their departures'.

According to online publication Law360, following an eight-day trial, the jury found Gupta and DatabaseUSA.com liable for engaging in unfair competition, breaching contracts and unjustly enriching themselves, with Database additionally liable for false advertising, copyright infringement and mark infringement. The suit also said Gupta and his company breached contracts with Infogroup, including a state court settlement agreement between the two companies that banned Database from making reference to Infogroup products on its web site. As part of Wednesday's verdict, the jury ruled in favor of Infogroup on all charges and concluded that Database should pay $43.6m, while Gupta himself should pay $10m for breaching the 2008 separation agreement.

Gregory Scaglione, an attorney for Infogroup, told Law360: 'Infogroup has successfully protected our database copyright and have established legal precedent that a database compiled from facts is protectable under federal copyright if the compiler uses selection, arrangement or coordination of the facts during the compilation process'. David Domina, an attorney for Gupta and Database, told the publication yesterday that he plans to file and 'vigorously prosecute' post-trial motions, adding: 'This case is far from over'.

Web sites: www.infogroup.com and www.databaseusa.com .


All articles 2006-22 written and edited by Mel Crowther and/or Nick Thomas unless otherwise stated.