21 Today
November 29 2019
Today it's exactly 21 years since MrWeb was officially launched - a traditional coming-of-age here in the UK. In Internet terms, 21 is ancient really, and we'll do a bit of looking backward over the next few weeks, but we also have major plans for the coming year. Details here - and your feedback wanted!

<! pod><! pod>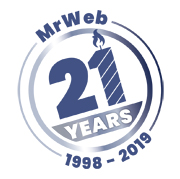 Has a lot changed since November 1998? Well yes, we used to accept job ads by fax and post when we started, we used Word Perfect macros to create the html for ads, we chose jobs for registered candidates manually and of course we promoted the site with ads in paper magazines (one of them appearing the week of the launch, in Research). Mobile phones were still big clunky things that just made phone calls, and the Web was... well to be honest the Web was already great, and full of potential the majority of which has (as of 2019) yet to be realised, in our humble opinion.

Indeed, it's easy to argue that more changed in the previous ten years. On my first day of work after university, by coincidence exactly thirty-one years ago today, I was sat in a room (at IFF's Argyll Street office next to Oxford Circus), with a table, a chair, pen and paper, a phone and a copy of Yellow Pages, and told to ring fuel oil suppliers in the North West, ask for their MDs and 'chat' about their business without saying who it was for - god help me, I was terrified.

Point is, research staff had no computers and paper was stacked floor to ceiling in most rooms. Now that's different. 1998 seems modern by comparison.

Nevertheless, 21 years is a long time. We've published 152,000 job ads and nearly 29,000 news articles, and gone from a UK-based job site to a global business we describe as 'The MR World's Daily Paper' - paper, as in newspaper, still sums it up nicely to me even though we've never really put things in print. Next year is actually shaping up to be exciting, with major plans including:
four more Special Issues to come, looking at Mobile Insights; Big Data and Text Analytics; Data Visualization; and Neuroscience / Biometrics
new global partnerships to announce, leading to new and revamped services
the launch of a package allowing some of our loyal supporters and fans to sponsor DRNO for a single day - alongside a lot of other promotion - for an entry-level price
an expansion of our Home Page 'Marketplace' for MR suppliers
and in the shorter term, a look at the main news stories from each year the news has been running - that is from 2000 onwards, finishing with a glance at the future. That starts next week.
We'd love readers to
get in touch
- email
nthomas@mrweb.com
- with their own stories of how they've made use of the site. Jobs found, careers and lives changed (we know there have been plenty of moves to and from Australia and NZ), news items that sent you rushing off to tell colleagues (or sell shares!), or just any other message - and if you're happy for us to publish them in a digest with others sometime, let us know. Generally, keep in touch with us and keep giving us your feedback, good or bad, because what's really given MrWeb the momentum it has and made it worth doing, is You Lot. Researchers are and have always been what makes this such a good industry to work in, and they have made it a great one to serve. To paraphrase a favourite film, 'twenty-one years is too short a time to live among such excellent and admirable people' - but unlike Bilbo, we're not about to step down and vanish. Unless it's for a shedload of money - that could do the trick.
Nick Thomas, co-founder and MD
...and on behalf of
Ian Paterson, co-founder and Director; and Mel Crowther, News Editor since 2006.
All articles 2006-23 written and edited by Mel Crowther and/or Nick Thomas unless otherwise stated.