Full-Service MR Firms: 'Half Gone within Five Years'?
December 4 2015
More than one-third of insights providers agree with the statement that '50% of full-service market research suppliers will be out of business within five years', according to findings from the latest GreenBook Research Industry Trends Report (GRIT) *.

<! pod><! pod>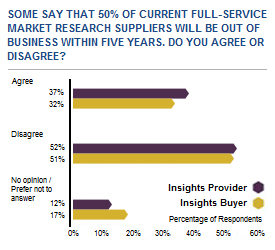 For this eighteenth edition of GRIT, data was gathered in Q3 and Q4 from 1,497 respondents, 78% of whom are suppliers and 22% clients. Almost two-thirds (63%) of insights providers believe the market research/intelligence industry will become more disruptive over the next three years, a viewpoint shared by most insights buyers. In addition, three quarters of insights providers say they need to transform all or part of their business to remain competitive.

Respondents were asked to assess their own firms' strategic planning capabilities, and the results show an almost equal split - both on client and supplier sides - between those saying their organization's skills are strong and those who say they are not. About a quarter of insights providers believe that clients should be part of the strategic planning process.

The authors of GRIT say that innovation and transformation are intertwined, and the introduction of new products and services is a common path followed. More than 70% of insight providers have introduced a new product or service to the market in the past two years.

Joan Lewis, former SVP and Officer of Global Consumer and Market Knowledge at P&G, commented on the findings: 'Some companies may not survive changing times, but I am optimistic for the future. I hope these five years are a crucible, from which many companies will emerge offering better, faster learning methods with a tighter focus on business impact. If that happens, we'll all have healthier businesses and more rewarding jobs'.

This edition of GRIT also explains how the evolution of the industry is changing the mix of core methodologies; discusses panel provider satisfaction; reveals who is driving mobile-enabled survey design; explores adoption rates for various new technologies; and details which data-driven skills are most valuable.

The infographic below shows skills considered most in demand in the industry. More from GRIT next week.


* That means of course that the majority disagree. Our considered opinion here at DRNO is that the rate of attrition won't be much higher than in any other five-year period to date.



All articles 2006-21 written and edited by Mel Crowther and/or Nick Thomas unless otherwise stated.