Obituary: Taylor Nelson co-founder Tony Cowling
March 25 2020
Tony Cowling, co-founder of Taylor Nelson, died on Saturday 14 March 2020, after a short illness.

<! pod><! pod>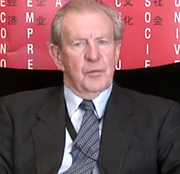 Born in 1936, raised in Kent and educated at Bromley Grammar school, Cowling (pictured) joined the market research industry in the 1960s, and in 1965, along with Elizabeth Nelson, Hugh Stammers and Stewart Taylor, he formed healthcare research specialist Taylor Nelson; based in an office overlooking Twickenham Stadium.

In 1985, the firm went public, only to find itself snapped up by consultancy Addison Page two years later, and merged with Addison Page's other market and media research holdings to form the Addison Consultancy division. Following the market crash of 1987, Addison Page was forced to shed a number of its businesses, and Addison Consultancy was spun off as part of a management buyout led by Cowling, who in 1989, took the CEO position.

In 1991, Cowling led the company through the acquisition of AGB (Audits of Great Britain) from the receivers of the collapsed Robert Maxwell empire, and merged it to form Taylor Nelson AGB. Six years later, the company took over French business Sofres in a deal valued at £119m, and it changed its name to Taylor Nelson Sofres; with Cowling named Chairman of the merged business, and Sofres founder Pierre Weill given the CEO role. The merger created the world's fourth largest MR group, with a focus on both healthcare and motor industry research, and with a presence in 28 countries. At the time, Cowling said that the Sofres deal made the company 'genuinely global'.

Throughout the 1990s, Taylor Nelson Sofres continued to make numerous acquisitions, and expand across the European, Asian and US markets; then during the period 2000 to 2005, TNS made more than twenty further acquisitions and the merger with NFO made the combined group the second largest market research company in the world. Cowling stood down as CEO in 2001, but remained as Chairman until 2006, when he retired from the Board with the honorary title of President and Special Advisor; having taken TNS from a small UK company with a £5m turnover, to a fully listed plc with a market cap of £1 bn, operations in more than 65 countries and nearly 15,000 staff. Two years after accepting the role, TNS was acquired by WPP in a deal valued at £1.08bn.

In a career spanning more than five decades, Cowling was also an active member of the MRS Professional Standards Committee, helping to upgrade the Code of Conduct and guidelines on best practice. During the 1970's, Cowling was instrumental in helping build the Association of Market Survey Organisations (AMSO), and he devoted a considerable amount of time and energy to building the 'Voice of the People' project around the world; an initiative conducted by Gallup International Association, which collected information on world issues such as poverty, democracy, corruption, health, the environment and human rights. In 2001, Cowling was named as Market Research Executive of the Decade by US industry magazine Inside Research; and five years later, he was awarded the MRS Gold Medal, in recognition of his service to the industry. During his career, he was also a member of ESOMAR (European Society for Opinion and Marketing Research), MRS (Market Research Society), and WAPOR (World Association for Public Opinion Research).

Back in 1962, Cowling married Renée, and the pair later had two children, Didier and Danielle, and five grandchildren.


All articles 2006-20 written and edited by Mel Crowther and/or Nick Thomas unless otherwise stated.