Civil Liberties Group Sues Face Recognition Firm
June 1 2020
The American Civil Liberties Union (ACLU) is suing facial recognition start-up Clearview AI, whose surveillance activities are described by the non-profit as a 'threat to privacy, safety, and security'.

<! pod><! pod>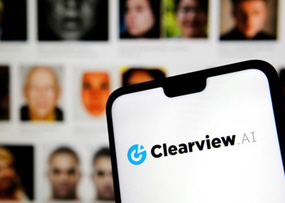 For several years, New York-based Clearview has been amassing a database of billions of 'faceprints' - unique biometric identifiers akin to a fingerprint or DNA profile - drawn from personal photos on users' social media accounts and elsewhere online. According to ACLU, Clearview has captured these faceprints in secret, without individuals' knowledge or consent, using everything from selfies to photos of birthday parties, college graduations and weddings. ACLU says a major concern regarding face recognition technology is that it makes it easy to identify and track individuals at protests, AA meetings, counselling sessions, political rallies and religious gatherings.

In addition, ACLU claims that unbeknownst to the public, Clearview has offered up its massive faceprint database to private companies, police, federal agencies and wealthy individuals, allowing them to secretly track and target individuals. It also sells access to a smartphone app that allows its customers to upload a photo of an unknown person and instantaneously receive a set of matching photos.

ACLU is taking Clearview to court on behalf of organizations representing survivors of sexual assault and domestic violence, undocumented immigrants, and other vulnerable communities. These groups say Clearview's face surveillance activities violate the Illinois Biometric Information Privacy Act (BIPA), which requires companies that collect, capture or obtain an Illinois resident's biometric identifier to first notify that individual and obtain their written consent.

In a statement, ACLU Staff Attorney Nathan Freed Wessler said: 'There is a groundswell of opposition to face surveillance technology, and this litigation is the latest chapter in an intensifying fight to protect our privacy rights against the dangers of this menacing technology. Across the nation, the ACLU has been advocating for bans on police use of face recognition technology, leading to strong laws as well as a statewide prohibition on use of the technology on police body cams in California. We won't let companies like Clearview trample on our right to privacy'.

Web sites: www.aclu.org and www.clearview.ai .


All articles 2006-21 written and edited by Mel Crowther and/or Nick Thomas unless otherwise stated.