Cision Buys Brandwatch for $450 Million
February 26 2021
Global PR and marketing company Cision has agreed to acquire Brighton, UK-based social media listening and content marketing analytics firm Brandwatch, for $450 million.

<! pod><! pod>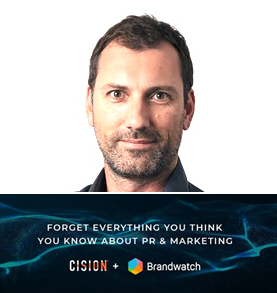 US-based Cision, which has offices in 24 countries throughout the Americas, EMEA and APAC, is known for its PR Newswire network distribution service, and its media monitoring and analysis services. The firm boasts a media contact database of approximately 1 million journalists and media outlets, and more than 75,000 customers. It is also the parent of social media insights and management company Falcon.io, acquired two years ago.

Brandwatch describes itself as a 'digital consumer intelligence suite', using AI-powered deep social listening and content marketing analytics products to help clients make 'insightful, data-driven decisions'. It's almost two and a half years since it merged with social media analysis firm Crimson Hexagon, creating a new business with annual revenue of around $100m, and three and a half since it bought influencer ID platform BuzzSumo. With ten global offices, the firm is led by CEO Giles Palmer (pictured).

Cision CEO Abel Clark comments: 'The continued digital shift and widespread adoption of social media is rapidly and fundamentally changing how brands and organizations engage with their customers. This is driving the imperative that PR, marketing, social and customer care teams fully incorporate the unique insights now available into consumer-led strategies. Together, Cision and Brandwatch will help our clients to more deeply understand, connect and engage with their customers at scale across every channel'.

Palmer started the business in 2007, initially trawling special interest forums such as the UK's moneysavingexpert.com and providing analysis for big financial firms. Interviewed last May for MrWeb's Insights in the Mobile Age supplement, and faced with Jamin Brazil's question 'How do you think the MR space will be different in the next 5 years?', he answered 'more quant, faster, easier to use, cheaper tools, five times bigger as an industry'. He explained: 'On the client side... the companies that are able to adapt more quickly to the changing consumer landscape are more successful. If you're a company and you're not baking consumer insight into everything you're doing as an organisation, then you're likely to be out-innovated by someone who is: you're not adapting as quickly as your competition. If we can make it faster, easier and cheaper then it [what we do as an industry] will happen more - so 5x could be a massive understatement. It's no longer MR - it's decision management'.

Today unsurprisingly he was just as upbeat: 'We have always built Brandwatch with ambition. That was recognized by Forrester, who recently named us as a leader in our space. Now is the time to take the next step - joining a company of significant scale to create a business and a suite of products that can have an important global impact. We are excited to join Abel and the Cision team to supercharge our work and bring even more value to our customers'.

The deal is expected to close in the second quarter. Web sites are at www.brandwatch.com and www.cision.com , and the Insights in the Mobile Age supplement is here: www.mrweb.com/cgi-bin/mrweb21.cgi?email=fromDRNOArticle&issue=mobile .


All articles 2006-22 written and edited by Mel Crowther and/or Nick Thomas unless otherwise stated.