Nielsen Raises Concerns Over Audience Measurement 'JIC'
April 24 2023
In the US, Nielsen says it will not be participating in the 'JIC' formed by a number of broadcasters earlier this year to certify audience measurement providers, unless the new body addresses concerns in areas including methodology, missing platforms, Nielsen IP, and the JIC's relationship to the MRC.

<! pod><! pod>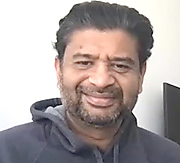 Ad agency partner OpenAP is co-ordinating the establishment of the 'JIC' on behalf of NBCUniversal, Paramount Global, Fox Corporation, TelevisaUnivision, Warner Bros. Discovery, A+E Networks, AMC Networks and Hallmark Media. Nielsen CEO of Global Audience Measurement Karthik Rao wrote last week to David Levy, Chief Executive of OpenAP citing 'fundamental legal, operational and scientific issues'. Friday was the deadline for submission of RFPs by the providers formally invited to participate, the others being Comscore, SambaTV, TVSquared, VideoAmp and 605. Rao (pictured) said responding to the calls for proposals now would give 'a false impression that we endorse the JIC's requirements', clarifying: 'We do not'.

Rao expressed some positives, allowing that the 'JIC' is playing a part in getting measurement issues discussed, but said the firm disagrees with the JIC's suggestion that set-top boxes (STBs) and Smart TVs provide better data than panels. He also mentioned issues over protection of the ratings giant's intellectual property, and questioned how the new certification will tie in with the existing industry standard, applied by self-regulatory body the MRC, given that the JIC does not seem to be making MRC accreditation a requirement. The MRC restored accreditation for Nielsen's National Television Audience Measurement (TAM) service a week ago.

In the letter, Rao also pointed out that the body works differently to most JICs around the world, which are non-profit independents, while the standards for this one have been created by 'only a subset of industry participants' and 'significant media companies either were not invited to participate or have chosen not to participate'. Disney, Netflix, Amazon, YouTube and other streaming platforms are not currently involved in the body.

A meeting to be held this week in New York promises a first look at the proposed setup of the JIC's new streaming data service, and Rao said he hopes the offer for the company to participate in this meeting still stands, as Nielsen still want to 'learn and better understand what this new committee is thinking about'. Rao said once the essential issues raised were addressed, 'we would be delighted to engage in thoughtful dialogue and reconsider our position'.

The 'JIC' made an initial response on Friday to Nielsen's comments suggesting that in some cases they arise from inaccuracies and 'misinterpretations' of its function, stating: ''Collaboration is the only way to move this industry forward. We believe that there is an important role for Nielsen and we encourage them to join JIC members and all other measurement companies under the tent to listen to feedback and respond on how they are going to address their customers' concerns'. It added: 'No one measurement company should be able to influence the requirements to benefit their bid for certification over their competition'. A more formal response is due to be released at time of going to press.

Web sites: www.openap.tv and www.nielsen.com .


All articles 2006-23 written and edited by Mel Crowther and/or Nick Thomas unless otherwise stated.