Japan, US Lead Web Usage Worldwide
February 2 2005
More than eight out of ten Japanese households used the Internet in 2004, while the US market, thought by some to be at or nearing saturation point, broke through a two-year plateau with a 27% online population increase, according to Ipsos-Insight's Face of the Web study.

The US is the largest Internet market with 162 million users, or 42% of the Internet population in measured markets, with Japan second on 70 million users. Much of the remainder of the growth was contributed by France and urban markets of China and Russia. These last have only around 10 million online users each but have each grown by over 50 percent year on year.

Senior VP Brian Cruikshank says that the continued growth of the 'Net in the Leading Edge markets 'provides a glimpse into the future of what is yet to come for other markets around the world, potentially at a much accelerated pace. Considering it's only been five years since the financial markets' enthusiasm for the Internet waned, and 10 years since broad adoption of the Internet, Internet growth continues to expand in developed markets and reach critical mass in many markets in Europe and Asia. There's much more to come'.

Users in the East Asian markets of Japan, South Korea, and Urban China are most likely to spend a large proportion of their time online. The proportion of 'past 30 day Internet Users' in these markets spend more than 11 hours online per week is as follows:
East Asian markets as above - close to 40%
North America, Mexico and France - around 30%
UK, Germany and elsewhere - less than 20%.
The Face of the Web study has been conducted annually since 1999. The 2004 wave was conducted in October and consisted of interviews in 12 key global markets with a random sample of 6,544 adults in urban Brazil, Canada, urban China, France, Germany, urban India, Japan, urban Mexico, urban Russia, South Korea, the UK and the US. The 6,544 included 3,304 active Internet users. The study also looked at household technology usage, wireless communications, types of connectivity, global Internet awareness, barriers to Internet usage and future plans.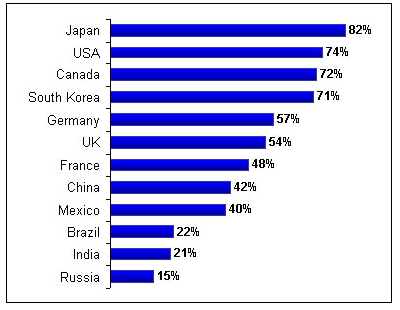 2004: Percentage of Adult Internet Users
Past 30 Day Internet Users from any Device or Location

Ipsos-Insight is online at www.ipsos-insight.com


All articles 2006-21 written and edited by Mel Crowther and/or Nick Thomas unless otherwise stated.