High-Rolling Line-Up for Verve
December 3 2008
In London, the founders of Research Now, Hall & Partners and the iD Factor - Andrew Cooper, Mike Hall and Jon Gumbrell - have launched Verve, a new technology, telecoms and media-focused research provider. More senior personnel are set to join in the next two months.

<! pod><! pod>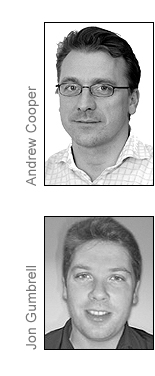 The firm is named to symbolise vibrancy, energy and enthusiasm, and in addition to offering generalist market research services will also partner with providers of research technology in the US to offer their solutions to clients in Europe.

In addition, it will develop its own technology and research propositions - including adapting marketing tools for the needs of the market research industry - and distribute these globally.

'Technology development in market research has been limited either by the lack of vision or technical ability of market research agencies,' explained Gumbrell. 'At Verve we will bring together fantastic products from various sectors to give our clients an array of tools to help them better understand their customers' needs.'

While en route to the US, Cooper told DRNO that further senior level co-founders will join Verve as they come out of their contractual commitments, and that there will be a total of 10 partners on board by January/February 2009.

In order to recruit and retain quality staff the founders are forming a partnership model which will offer joiners equity stakes in the business and enable high performers to become partners.

'It suits a lot of agencies to conduct work inefficiently in order to protect their margins,' stated Cooper. 'It's our aim with Verve to build a tech/online savvy business to create greater insight or greater efficiency, and in turn provide clients with distinctly better value. Better Research for Less Money is our mantra!'

Commenting on the timing of the launch, Cooper added that the current economic climate makes it a 'mightily exciting' period to be building a business based upon such principles.

Headquartered in Shoreditch, the firm has a temporary web site at www.haveverve.com .


All articles 2006-22 written and edited by Mel Crowther and/or Nick Thomas unless otherwise stated.