Renamed Top 50 Report Highlights US MR Growth
December 10 2019
US market research directory publisher and blogger GreenBook has taken on production of the former Honomichl / AMA Gold Top 50 Report. The 2019 edition, just published, reveals a good year for the industry with the 269 companies covered growing revenue by 3.7% in real terms to $29.43bn.

<! pod><! pod>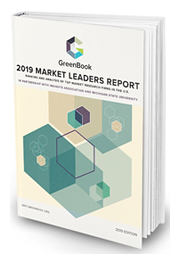 Originally created by long-time research industry journalists Jack Honomichl and Larry Gold, the report provides an annual compilation of the top 50 revenue-generating marketing research firms operating in the US. Following Honomichl's death in 2013, the report was renamed the AMA Gold Report Top 50 until Gold's death two years later, and has since been authored by Diane Bowers, who is a consultant at the Insights Association and GRBN (Global Research Business Network).

The 46th edition of the Top 50 report, now known as the 2019 GreenBook Market Leaders Report, has been produced in partnership with the Insights Association (IA) and Michigan State University. The IA provided information about 219 full-service research company members outside the Top 50 companies, to allow GreenBook to broaden the estimate of year-over-year growth.

According to Executive Editor Leonard Murphy, while GreenBook has preserved the traditional US Top 50 list as it has always been defined, the publisher has now broken the remainder of the report into a view of the leaders in each segment of the industry. Categories are Data & Analytics (16 of the top 50), Field Services (1 company), Full-Service Agency (18), Strategic Consultancy (12) and Technology Provider (3). Along with top overall research companies ranked by revenue and by sector categories, the report now includes trending analysis from industry leaders and in-depth interviews with CEOs.

Commenting on the changes, Murphy said: 'Growing up in market research, every year I looked forward to the Honomichl Top 50 and later the AMA Gold Top 50 reports. I never imagined I would have a chance to stand on the shoulders of those giants and help carry on their legacy, but thanks to Diane Bowers, Michael Brereton, Insights Association and GreenBook I have'.

The report says total 2018 research and analytics revenue for all 269 companies covered was $29.43bn, with US revenue accounting for just under half ($14.51bn or 49.3%) and non-US revenue $14.92bn or 50.7%. Revenue grew faster than in 2017 - the figure for the Top 50 increasing by 5.9% (a healthy 4.0% after adjusting for inflation) and for all 269 firms by 5.6% (3.7% after adjusting for inflation). The top ten firms by US research revenue were:

1 Nielsen ($3.815bn)
2 Gartner Research ($1.720bn)
3 IQVIA ($1.565bn)
4 Kantar ($925m)
5 IRI ($800m)
6 Ipsos ($583m)
7 Westat ($570m)
8 Comscore ($315m)
9 The NPD Group ($312.7m)
10 GfK ($310m)

Gartner, which was not included in the listing last year, is the fastest growing in the top 20 this year, up 20%).

The report can be accessed at www.bit.ly/2RP4g8j .


All articles 2006-22 written and edited by Mel Crowther and/or Nick Thomas unless otherwise stated.