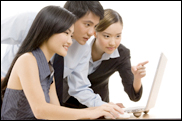 RECENT NEWS ITEMS


Social Media Monitoring

<! news>

16/3/18

In Australia, M&C Saatchi Group's customer experience arm LIDA has launched a data consultancy called Magic Beans, combining data science with marketing experience. The new division is led by Head of Data & Customer Experience, Lucy Acheson.

More

.

<! news>

16/3/18

GfK has named Morten Boyer Managing Director for Australia and New Zealand, alongside his existing role as Head of Digital Media Measurement in the APAC region. He succeeds Catherine Eddy, who held the MD position for the past three years.

More

.

<! news>

15/3/18

Manchester, UK-based full service agency Mustard has launched a data science business called Honeycomb, led by Head of Data Insights Bethan Turner, with support from former ICM Unlimited MD Andrew Wiseman and previous Mustard colleague Bronagh Lavery.

More

.

<! news>



View all related news items

What's Included?
The wide spread use of social media has brought about a sea change in the way we communicate with each other. Market researchers have a dual role in that they must not only measure these markets, but also help their clients to navigate their way through the mass of new methodologies.
FEATURES
The Internal Network: making sure that Facebook is not the only game in town by Steve Cooke - Steve Cooke Consulting
Outage or Outrage by Michalis Michael - Founder and MD of DigitalMR
Ethics and Social Media Research by Peter Milla - Information Technology and Privacy Consultant
Getting Started With Social Media Research by Maria Ogneva - Director of Social Media, Attensity
Ray Poynter's The Handbook of Online and Social Research Reviewed by Teresa Lynch
Are you listening? by A J Johnson - Vice President, Ipsos Open Thinking Exchange
CURRENT JOBS IN THIS SECTOR
Account Manager - Social - Qual and Quant Sydney
AD / RD - Quant - Media and Brands London
Insight Manager - Creative / Digital London
Head of Qualitative Research - Innovative Insight Consultancy Central London
Associate, Respondent Acquisition Toronto, ON, Canada
Director - Digital / Social Media Insight London
Brand Analyst, Social Media Central London
Community Manager Cincinnati, OH, USA

>> More jobs in this sector

>> View all jobs on MrWeb

<! img src="insight-banner.gif" align="right" border="0" alt="InsightExpress"><! img src="populus-bnr.gif" border="0" alt="Populus">
FEATURED SUPPLIERS
<! featsupp>

Ipsos MORI

Ipsos MORI, is a leading UK research company with global reach. The company Specializes in Advertising, Loyalty, Marketing, Media, Social and Political, and Reputation research. www.ipsos-mori.com

Join the Dots

We connect primary research with the latest consumer thinking to give you a bigger picture. We help you understand your customers, navigate change, and capitalise on opportunities. In short, we join the dots. www.jointhedotsmr.com

eDigitalResearch Ltd

eDigital is a leading provider of digital market research, enabling our clients to make critical business decisions using comprehensive consumer insight and informed direction. www.edigitalresearch.com
<! featsupp>
ALL SUPPLIERS
Attentio - beRelevant - Buzznumbers - Constant Contact - eDigital - ForeSee Results - FreshNetworks - HarrisInteractive - Lotame - MarketTools - McKinsey - Nielsen - NM Incite - NutShell Mail - Omniture - Verve - Virtual Surveys - Visible Technologies - Vision Critical - Zoomerang
Please
email
if there are any relevant agencies you don't see listed here. A rapidly expanding sector!