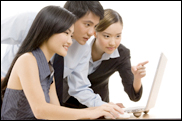 RECENT NEWS ITEMS


Social Media Monitoring

<! news>

Nielsen Sues comScore over 'Extended TV' Plans

- 25/9/17



Nielsen has filed a lawsuit to prevent comScore from launching a new service called Extended TV. The service uses data from Nielsen's PPM technology, to which comScore and others gained access at the time of the Arbitron buy, but in a way Nielsen says is outside the scope of that agreement. >> More

<! news>

MR Industry Growth at Highest Level Since 2010

- 22/9/17



Last year saw the MR industry experience its highest level of growth since 2010, according to the latest study by international association ESOMAR. >> More

<! news>

Emotion Measurement Firm Canvs Names New COO

- 22/9/17



In New York, language analytics and emotion measurement specialist Canvs has appointed James Delaney as Chief Operating Officer, in charge of sales, marketing and client operations. >> More

<! news>



View all related news items

What's Included?
The wide spread use of social media has brought about a sea change in the way we communicate with each other. Market researchers have a dual role in that they must not only measure these markets, but also help their clients to navigate their way through the mass of new methodologies.
FEATURES
The Internal Network: making sure that Facebook is not the only game in town by Steve Cooke - Steve Cooke Consulting
Outage or Outrage by Michalis Michael - Founder and MD of DigitalMR
Ethics and Social Media Research by Peter Milla - Information Technology and Privacy Consultant
Getting Started With Social Media Research by Maria Ogneva - Director of Social Media, Attensity
Ray Poynter's The Handbook of Online and Social Research Reviewed by Teresa Lynch
Are you listening? by A J Johnson - Vice President, Ipsos Open Thinking Exchange
CURRENT JOBS IN THIS SECTOR
Account Manager - Social - Qual and Quant Sydney
AD / RD - Quant - Media and Brands London
Insight Manager - Creative / Digital London
Head of Qualitative Research - Innovative Insight Consultancy Central London
Associate, Respondent Acquisition Toronto, ON, Canada
Director - Digital / Social Media Insight London
Brand Analyst, Social Media Central London
Community Manager Cincinnati, OH, USA

>> More jobs in this sector

>> View all jobs on MrWeb

<! img src="insight-banner.gif" align="right" border="0" alt="InsightExpress"><! img src="populus-bnr.gif" border="0" alt="Populus">
FEATURED SUPPLIERS
Ipsos MORI

Ipsos MORI, is a leading UK research company with global reach. The company Specializes in Advertising, Loyalty, Marketing, Media, Social and Political, and Reputation research. www.ipsos-mori.com

Join the Dots

We connect primary research with the latest consumer thinking to give you a bigger picture. We help you understand your customers, navigate change, and capitalise on opportunities. In short, we join the dots. www.jointhedotsmr.com

eDigitalResearch Ltd

eDigital is a leading provider of digital market research, enabling our clients to make critical business decisions using comprehensive consumer insight and informed direction. www.edigitalresearch.com
ALL SUPPLIERS
Attentio - beRelevant - Buzznumbers - Constant Contact - eDigital - ForeSee Results - FreshNetworks - HarrisInteractive - Lotame - MarketTools - McKinsey - Nielsen - NM Incite - NutShell Mail - Omniture - Verve - Virtual Surveys - Visible Technologies - Vision Critical - Zoomerang
Please
email
if there are any relevant agencies you don't see listed here. A rapidly expanding sector!