MrWeb 21 YEARS FEATURE: Isaac Rogers Interview
September 19 2019
Interview Excerpts: Isaac Rogers, CEO at 20|20, in conversation with Jamin Brazil of Happy Market Research. This is the first of a dozen articles from our 21st birthday celebration feature looking at Online Communities.

<! pod><! pod>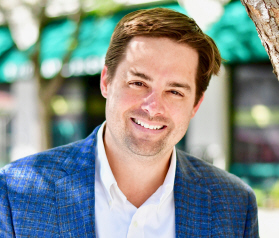 Isaac Rogers is CEO at 20|20, a global provider of online qualitative technology, respondent recruitment, and project support services. Prior to this role, Isaac served as 20|20's Chief Innovation Officer and was responsible for product strategy and development. During his tenure, Isaac has been instrumental in the launch of multiple solutions for online research and filed three patents with USPTO. Before joining 20|20, Isaac's career included roles in business intelligence consulting, e-commerce, and government technology contracting.

Listen to the whole podcast at www.happymr.com/isaac-rogers (45 mins)


On the Ranch

IR: for the last fifteen years of my upbringing we had a cattle ranch. We raised about 150-200 head of cattle and starting at age 12-13 that was what I did, I had a pretty instrumental role, starting running the place when I was 14-15. There's something about being raised on a farm or on a ranch... and I've met some other senior leaders and execs over the years and it amazes me what % grew up on or around a farm somewhere. It was about 500 acres, outside a little town in Arkansas - big enough to be a ton of work but small enough that our family could manage it and not have to bring in a bunch of people to do it. It taught me how to plan and think, and how you could do almost anything you needed to do, yourself ... and most of the things you end up doing you've never done before - you have to figure that out.

...'though also that's one of my bad traits from a business point of view - saying 'I'll do it myself' because as you get in a bigger and bigger organisation you have to kick that off - it took me a couple of years.

JB: Did you have a pivotal moment when you just had to let it go?

IR: yeah I kind of got told to [laughter]. I became a bottleneck... Being willing to say 'I'm not going to be able to exercise that muscle any more' is really hard, but once you've got a team of say 4 or 5 folks under you they're going to have to take some of it...'


Blockchain patents

IR: for several years I had concerns about some of the ways that we were collecting and monetising data and the ways we treat panellists - both 20|20 and the broader industry. Somewhere around five years ago I had a moment on a plane flying to Chicago... I was reading about a distributed application creating a registry for diamonds and what it was going to look like, and I had this moment: 'We're in the diamond business' - what they're trying to do in creating a registry that people can trust and look in and find out about a diamond and know that it wasn't a blood diamond or reharvested... that is just what we are trying to wrestle with in the MR space. I spent a couple of months with our development teams, talking to patent attorneys, found one in Nashville who already had experience with some blockchain stuff as it relates to healthcare - spent several months on creating the IP and some early stage products around that and around one and a half years later that patent was granted. It creates a marketplace - a lot of data collection is kind of a mess - a lot of steps. Taking a step back, what you have is a brand that wants to get an answer from a human - this type of marketplace shortens that gap, gives the respondent more control over their feedback.

...more and more of our brand partners recognise that when you put a survey out there that's really painful, it's an extension of your brand. I would like to get the industry to the point where one day I can turn round and say to my Mom, I would love it if you take surveys, it'll be a great experience, you'll be rewarded for your time, and the brand'll really listen to what you have to say. Today I wouldn't wish the average survey on an enemy.


On 20|20 research launches

JB: Your platform QualBoard has had a major upgrade this year...

IR: yeah, an upgrade of the kind where we just rebuilt the whole thing [laughs]. We've had to do that 4 times.

The big unrealised dream for people building online qual platforms is... it's still not that much faster and easier doing qual online, there's still a lot of data that moves back and forth, little tasks that need completing, a lot of set-up. Researchers just coming into it say 'Oh Good digital this'll be easier' and we say 'It'll be easier in ways and harder in others!' We realised what we had to do is to automate as much of the heavy lifting and menial tasks as we could... Right now we feel like we can give an hour a day, maybe up to 2-3 hours a day back to researchers, depending on how much work they're doing, and that's an enormous amount to put back into development, working with the respondent etc..

JB: is there a shining example of the efficiency gains from Qualboard..?

IR: No - lots of smaller ones! We looked for a silver bullet and asked the world's experts on machine learning and NLP and they said we were crazy. There's no silver bullet, what you can do is get these little helper apps that free up these little pieces of time.

JB: how about the knowledge management aspect of it?

IR: I was on the marketing side of a team a long time ago and we did some focus groups and I got the final report and I never looked at it, I just threw it on my desk, and I've carried it with me ever since as a little token to remind me of how easy it is to do 100k of research, spend 3 days in research, wait 2 weeks for the report and then never really integrate that knowledge on an ongoing basis into product development. On QB 4.0 we've made it so that all your findings over time they all feed into one place...

JB: one thing you guys introduced this year... in May, the slow build, lean community. One of the more overdue products in the marketplace? [there'll be an article in the publication next week, with Isaac's summary of this]


What will be different in 5 years?

IR: Digital qual right now is probably less than 20% of the market now in US, but I think in 5 years it'll be half or more.

From the corporate researcher side, the really sharp insight departments are starting to pull away from reactive - 'I have a business question...' - towards listening out for ripples of disruption which they bring back to the brand team and say 'Hey have you seen this, have you thought about it, how do we get in front of this trend'. I am hopeful that if we can pull that off it'll give us a renaissance in our industry... I think it can be wildly effective.

[but also, if we can just make qual fast and easy to do it'll grow like gangbusters]


What is your personal motto?

IR: 'Know the story. Have a villain. Be the hero.' I can't tell you how many situations in life those three simple sentences give me a structure to think about my role and what I need to do - it's one of the things that gets me up in the morning. I was told that when Steve Jobs died, those three sentences were written on a small piece of paper and it was the only thing on his desk - 'though I was not able to confirm that and I don't actually know where it came from!


Listen to the whole podcast at www.happymr.com/isaac-rogers (45 mins)


Other 21 YEARS / Online Communities content now available (read and download the full supplement here):

Ask, Listen and Observe: Andy Buckley, Head of Client Solutions at Join the Dots / InSites Consulting argues that communities need to 'step up their game'
www.mrweb.com/drno/news28625.htm

Being Customer Centric, Not Just Talking About It. Verve Executive Director Paul Lawson casts an expert eye over the many great uses of a community panel
www.mrweb.com/drno/news28638.htm

ITV's Village Voice
Hannah Downs, Head of Insight at UK agency ResearchBods, explains how the firm uses a community to help British broadcasting group ITV get closer to viewers.
www.mrweb.com/drno/news28644.htm

A View from the Outside
Communities aren't just for insight. Richard Millington of FeverBee, who has helped build them for everyone from Apple to Lego to the UN, helps define where we sit in the bigger picture
www.mrweb.com/drno/news28650.htm

Interview Excerpts: Samsung's David Garcia Pawley
... on work-life and other kinds of balance; the extremes of 'agile'; working on communities with Verve; backing up insights; and why brands should 'get out more'
www.mrweb.com/drno/news28656.htm.

Interview: Kristof De Wulf
InSites Consulting's co-founder and CEO on the acquisition of Join the Dots, the company's plans and the future for online communities more broadly.
www.mrweb.com/drno/news28716.htm.

Lean Communities, smooth pit stops: 20|20's Julia Eisenberg and Isaac Rogers
The rise of the 'smaller, more tactical insights community', and the need to get that 'pit lane' running smoothly.
www.mrweb.com/drno/news28757.htm.


All articles 2006-23 written and edited by Mel Crowther and/or Nick Thomas unless otherwise stated.