MrWeb 21 YEARS FEATURE: ITV's Village Voice
September 25 2019
Our month-long focus on online communities goes client-side today. Hannah Downs, Head of Insight at UK agency ResearchBods, explains how the firm uses a community to help British broadcasting group ITV get closer to viewers.

<! pod><! pod>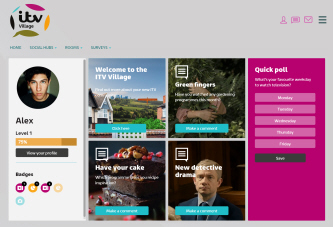 At the end of 2016 ResearchBods built and launched an online community for UK broadcasting group ITV, with the aim of helping them get closer to their viewers and put audience feedback at the heart of everything they do. ITV Village is a fully branded online community experience, designed to give members a voice by sharing their opinions with the knowledge that their input will help to shape the future of ITV.

The ability to combine data and technology with robust insight using a proprietary software platform, was key in choosing ResearchBods as a partner to help deliver this.

The online community has over 6,000 members and continues to grow with ongoing recruitment through the ITV Hub video on demand service. With around 330 research projects completed through ITV Village to date, that's over 90,000 individual answers from members since launch. The introduction of an online community platform has allowed ITV to significantly increase the volume and speed of turnaround for research projects and enhanced their ability to run multiple projects at the same time with greater ease.

The opportunities to engage with members are widespread across ITV, with multiple departments including commissioning, planning, commercial and strategy having input and exposure into research projects and results. As a broadcaster they are committed to delivering content that resonates with viewers and helps to grow their audience, whilst creating revenue streams through advertising and paid content.

Neil Mortensen, Director of Audiences at ITV comments: 'The ITV Village is an extremely valuable research tool for getting closer to our audience. It helps us to understand our viewers thoughts, feelings and behaviours, not only around television, but also brands, lifestyle and many other categories. The speed of turnaround has been hugely beneficial from a practical point of view, but also in getting buy-in from the wider the business, involving other departments more easily in research projects, and ultimately enabling quicker business decisions'.

As with all ResearchBods communities, ITV Village is hosted on our proprietary software platform ex-plor, maintained and developed by our in-house team. This means we can work closely with clients to develop enhancements and bespoke features to make sure everyone involved gets the best experience possible. Technology and the needs of customers are constantly evolving, therefore this agile approach can help clients like ITV stay ahead of the curve.

ITV use a wide range of quant and qual research methodologies in the online community to understand day-to-day and forward thinking topics. A recent project looked at when and how to broadcast programmes to maximise viewership, whether that's releasing episodes weekly, airing on consecutive nights, or releasing a whole series at once for those who like to 'binge watch'.

Our insight team have watched programme pilots live with respondents to capture in-the-moment reactions to see what makes them laugh, cry or switch off. We encourage video feedback from members across many of the methodologies as this captures verbatim responses and really helps to bring a human touch to reports and standalone outputs for ITV.

We use single question polls as a fast and an effective way to get results and keep members engaged. These are great for gaining feedback on current programmes and asking for input around storyline development, or simply asking how members are feeling today in light of any news headlines.

Longer surveys can be scripted for more detailed research projects and can include different stimulus like images and videos, and use multiple tools such as open question types, highlighters and dial tests to help test programme titles, synopses and promos.

Forum discussions are used to engage groups of 10 or more members on a set topic and are left open for around a week. Members can post comments and upload photos, which helps to give a real sense of how the audience behaves day-to-day. These forums can use privacy settings to eliminate possible bias.

Focus groups explore topics in depth with up to 10 members in a 90 minute session. Real-time chat gives a fast and smooth user experience, and functionality allows respondents to view concepts with ease and annotate with their feedback. In a recent project we looked at marketing hooks for upcoming programmes, helping us to understand what piques a viewer's interest in getting them to tune in when a new programme comes out.

Diary studies use structured or unstructured diaries for members to complete over a set period, usually a week. These help to understand the reach of advertising or viewing behaviours on particular days, channels or genres.

Map studies involve members being recruited to take part in projects that capture their location, whether they're at a bar, in the bookstore or at the gym. This location data is then displayed on a map which can be categorised to understand their interests and lifestyle habits, widening our view of members outside of their television preferences.

We work with ITV on both a full service and also self-serve basis. Our dedicated inhouse community manager keeps members engaged on an ongoing basis, alongside our insight and project teams who manage, script, deliver and report on projects of various size and duration. The self-serve option allows the ITV team to create quick polls, simple questionnaires and discussion rooms, monitoring and moderating activity and then reporting and analysing results themselves. This creates a great balance, whereby they're able to work on extremely fast turnaround for many smaller projects but also have the option of more complex and detailed projects from ResearchBods where required.

By recruiting members via the ITV Hub we can integrate data around what they've watched and what ads they've seen within the video on demand service. This allows us to sample members based on their actual viewing behaviour, not claimed. We can send them highly targeted surveys that match their viewing habits and preferences. ITV continue to enhance their VOD service as a revenue stream and have run alpha testing through the online community to help shape their future offering.

In addition to ITV Village members, there are some research projects that require a more diverse group of respondents to gain a wider view. In these instances, ITV can tap into our audience access panel to sample niche groups, non-viewers or nationally representative demographics. This hybrid approach gives flexibility and allows the research team at ITV to tackle any brief that the wider business may be interested in exploring.

We've got lots of other exciting projects in the pipeline for ITV, using both passive and claimed data to understand more about audience behaviour. Media is such a fast-paced sector, it's fantastic to work with ITV who believe in using data and technology to support customer driven growth.


Hannah Downs is Head of Insight at ResearchBods, having built up almost 20 years' experience in marketing and market research roles. She leads a team of 12 insight professionals to deliver a mix of quant and qual research projects for clients across a wide range of sectors including retail, media, finance, telecoms, hospitality and food & drink. Together they harness the power of online communities to deliver insight that affects positive change and drives business growth for clients.

Web site: www.researchbods.com .


Other 21 YEARS / Online Communities content now available (read and download the full supplement here):

Interview Excerpts: Isaac Rogers, CEO at 20|20 Research
www.mrweb.com/drno/news28620.htm

Ask, Listen and Observe: Andy Buckley, Head of Client Solutions at Join the Dots / InSites Consulting argues that communities need to 'step up their game'
www.mrweb.com/drno/news28625.htm

Being Customer Centric, Not Just Talking About It. Verve Executive Director Paul Lawson casts an expert eye over the many great uses of a community panel
www.mrweb.com/drno/news28638.htm

A View from the Outside
Communities aren't just for insight. Richard Millington of FeverBee, who has helped build them for everyone from Apple to Lego to the UN, helps define where we sit in the bigger picture
www.mrweb.com/drno/news28650.htm

Interview Excerpts: Samsung's David Garcia Pawley
... on work-life and other kinds of balance; the extremes of 'agile'; working on communities with Verve; backing up insights; and why brands should 'get out more'
www.mrweb.com/drno/news28656.htm.

Interview: Kristof De Wulf
InSites Consulting's co-founder and CEO on the acquisition of Join the Dots, the company's plans and the future for online communities more broadly.
www.mrweb.com/drno/news28716.htm.

Lean Communities, smooth pit stops: 20|20's Julia Eisenberg and Isaac Rogers
The rise of the 'smaller, more tactical insights community', and the need to get that 'pit lane' running smoothly.
www.mrweb.com/drno/news28757.htm.


All articles 2006-23 written and edited by Mel Crowther and/or Nick Thomas unless otherwise stated.