MrWeb 21 YEARS INTERVIEW: Kristof De Wulf
October 9 2019
On 2nd July DRNO announced [www.mrweb.com/drno/news28233.htm] the acquisition of UK-based insight community specialist Join the Dots by global consumer agency InSites Consulting. It's InSites' 4th company buy in 18 months, and its largest. Nick Thomas talked to its co-founder and CEO Kristof De Wulf about the deal, the company's plans and the future for online communities more broadly.

<! pod><! pod>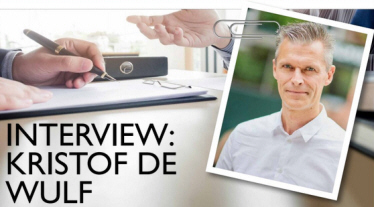 This is an abridged version of the interview, which also appears in the October 2019 Communities Supplement. The full interview can be found at www.mrweb.com/mrt/kristofdewulf.htm .


NT: Your general reasons for looking for a buy along these lines...
KDW: Our ambition is to become the global leader in online communities - we believe they will become the mainstream method of collaborating with and learning from consumers. We'll see how the industry evolves in the next few years! We're therefore looking for companies that have developed a strong reputation and a strong business in any local market or region that is complementary to our current footprint: so successful in their region, but also focusing in particular on communities as a leading method to conduct MR.

NT: Now focusing on why you chose Join the Dots (JtD) specifically:
KDW: I think lots of reasons are in play. 1. A very strong similar strategic focus on building and running ongoing communities for clients - so the buy will strengthen our community knowhow and business/ client list. 2. Within JtD there are also interesting strategic capabilities we can add to our offering. Their social media intelligence practice is very interesting; and their cultural trends practice, built over the years, is an interesting add-on to our business. 3. A very important one to us - the culture and the DNA of the company - vital for a good integration. We quickly realised that we think in very similar ways and we apply a set of values to our people, to the way we build the business - so there was a lot of commonality there. 4. Related to this, the JtD leadership - we encountered a very experienced and very professional leadership and have embedded that leadership within our company to make sure we can grow a bigger international business. Using their knowhow, including some knowledge that we didn't have - that was very exciting.

NT: And the integration's going well, it seems?
KDW: So far so good; we have worked quite intensively on integration management - at the end of the day we want to build one integrated company. This has been our fourth acquisition so in the meantime we've learned a little bit how to deal with integration management and which processes to put in place. We specifically bought JtD which is a bigger acquisition for us, around 170 people to become part of our group - and spent quite a lot of time on pre-integration management, in discussions with their leadership. We are nearing 500 people, 480 I think. These are quite exciting times for us - every few months there is a whole new company we need to integrate and run - so you need to reinvent yourself a bit.

In the last 18 months, we've had 4 acquisitions and probably doubled the business, and we'll probably do more by the end of this fiscal year... we are going to continue with acquisitions.

NT: For the next lot of acquisitions, are there particular areas of research that you're looking to buy in, or particular geographical areas to cover?
KDW: There are two main areas. One is geographical expansion, where we are predominantly looking for agencies that are well known for being great at building and maintaining communities for clients - not a lot of complementarity but a lot of similarity. We are looking at the biggest countries in terms of MR spend, as per ESOMAR stats. We are quite European as you know, we are Belgian, from a small country, so throughout the 22 years we've been running we've always looked to say: What steps can we take, can we internationalise? We did this through greenfield operations a lot of times, but now we have this new non-organic growth that sits next to it.

We are currently also looking to strengthen our tech, in the core. We think communities will be the leading platform, and one reason is that they serve as the aggregator of all kinds of different methods - a good way of 'joining those dots'; but also for clients that have quite a heavy research agenda it makes more sense not to set up each project separately, but to have this whole set-up that has been paid for, where you can reduce the cost and time, and do more through one single vehicle.

From an internal perspective, I also think communities are quite convenient - we are in this self-serve, DIY phase of research development - which will not go away - and what we see today is lots of clients needing to use all kinds of tools to help themselves. We feel the future will move quickly towards aggregators and integrators, where those clients can find all those tools in a one-stop shop.

The next step from that is to build the ultimate Do It Together space (DIT): there's a lot of talk about DIY, and we need to be ready for that and invest heavily to make sure our clients can help themselves on the communities - we think the future is going to be a lot about DIT, where depending on their brands and approach, clients can either DIY or come to us when they need to. Which is challenging because on the one hand the available technology has to be really strong, and on the other we need to make sure that we have the best possible consultants and researchers in the industry. But we're up for a lot of challenges!


NT: Which areas are communities currently taking the most share from?
KDW: A good question. I think a little bit from everywhere, to be honest. Shall we look at traditional first - I would say clients are - very slowly indeed, you're right there - moving away from what we call traditional, focus groups, face-to-face interviews, telephone interviews, into something which we would say is more modern - a more diverse, hybrid way of working together with consumers.

Then there is the quant dimension: communities are obviously not going to replace all trackers tomorrow, because you know trackers need fresh samples, that's the one big drawback of any community - that's a limitation.

But even the more novel approaches, like social media monitoring, it can improve. We all know what some of the drawbacks of social media intelligence are - on the one hand, it's scraping data from big populations we don't know a whole lot about, so there's a lot of guesswork, that's one limitation; there's obviously the language dimension, as the dominant language of the Internet is still English; but also what we derive from that is skewed to the profile of the channels - like Twitter, you're listening to Twitter users, you know.
NT: [laughs] Not normal people!
KDW: That's similar to the feedback we received back in the day when we started doing Internet research, we were told like 'those are not normal people', you know, they use the Internet... so a lot of that is still there, and our philosophy of how that can work alongside larger communities (less so for small ones) is: if we can build this social layer on top of all the activities we are doing with consumers, this is massively interesting because not only do we know those people, have we profiled them and have we been working with them for months or years, it also brings in a whole stream of fresh insights, because their day-to-day social media liking etc. is something that can be really interesting. That is something we'll be doing, building a layer of social media intelligence on top of the community - and you could actually say the same of big data, which has sometimes but not always delivered on its promise: we know what's happened, but we don't necessarily know why, we lack a deeper understanding. If we can pull in more behavioural and transactional data from community users, that's an interesting layer of detail we can add on top, but at the end of the day for us it would still be a community. Instead of thinking of [communities] as a method, it's more a hub for information.


Kristof De Wulf is co-founder and CEO of InSites Consulting, a global consumer insight & collaboration agency included in the top 10 of GRIT's global list of most innovative agencies. He started his career at Vlerick Business School where he spent more than 15 years taking roles as Associate Marketing Professor, Partner, and Member of the Board. With the recent acquisitions of Direction First, Columinate, eÿeka and Join the Dots, Kristof now inspires more than 450 people around their company purpose to 'empower people to shape the future of brands' in New York, London, Manchester, Sydney, Johannesburg, Singapore, Düsseldorf, Paris, Rotterdam, Ghent and Timisoara. Kristof is 48, lives in Ypres (West-Flanders, Belgium) with his wife and two daughters, is taking his first steps in Krav Maga and loves taking good care of the family's 3 Shetland ponies and 3 chickens.

The full interview is online at www.mrweb.com/mrt/kristofdewulf.htm


Other 21 YEARS / Online Communities content now available (read and download the full supplement here):

Interview Excerpts: Isaac Rogers, CEO at 20|20 Research
www.mrweb.com/drno/news28620.htm

Ask, Listen and Observe: Andy Buckley, Head of Client Solutions at Join the Dots / InSites Consulting argues that communities need to 'step up their game'
www.mrweb.com/drno/news28625.htm

Being Customer Centric, Not Just Talking About It. Verve Executive Director Paul Lawson casts an expert eye over the many great uses of a community panel
www.mrweb.com/drno/news28638.htm

ITV's Village Voice
Hannah Downs, Head of Insight at UK agency ResearchBods, explains how the firm uses a community to help British broadcasting group ITV get closer to viewers.
www.mrweb.com/drno/news28644.htm

A View from the Outside
Communities aren't just for insight. Richard Millington of FeverBee, who has helped build them for everyone from Apple to Lego to the UN, helps define where we sit in the bigger picture
www.mrweb.com/drno/news28650.htm

Interview Excerpts: Samsung's David Garcia Pawley
... on work-life and other kinds of balance; the extremes of 'agile'; working on communities with Verve; backing up insights; and why brands should 'get out more'
www.mrweb.com/drno/news28656.htm.

Lean Communities, smooth pit stops: 20|20's Julia Eisenberg and Isaac Rogers
The rise of the 'smaller, more tactical insights community', and the need to get that 'pit lane' running smoothly.
www.mrweb.com/drno/news28757.htm.


All articles 2006-23 written and edited by Mel Crowther and/or Nick Thomas unless otherwise stated.