MrWeb 21 YEARS Interview: Streetbees CEO Tugce Bulut
May 27 2020
Concluding our DRNO coverage of the Mobile Insights special edition, an interview with the inspirational founder and CEO of app-based feedback business Streetbees. The second half of this, along with lots more mobile-focused content, can be found in the supplement itself. [Interview by MrWeb's Nick Thomas]

<! pod><! pod>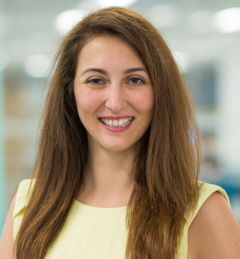 Tugce Bulut started mobile feedback business Streetbees five years ago, after working as a strategy consultant advising technology and consumer companies on how to accelerate growth in international markets. Passionate about the power of data and the positive change it can bring to the world, she is a published author and Master's graduate from the University of Cambridge, specialising in poverty alleviation and global living standards.

NT: Is Streetbees your first business?

TB: Yes, my first formal business. I was lucky enough to look for my 1st job in the middle of the 2008 recession [laughs] - there weren't a lot of jobs! So I started a consumer business for myself - it was a lot of fun, but I got into consultancy shortly after that, at the end of 2008.

NT: What led you to start it?

TB: Streetbees drew on everything I'd done before - my degree, the strategic consultancy and work with the World Bank looking at the impact of microfinance on poverty and global living standards. It was obvious to me that businesses are incredibly important in lifting people out of poverty, more so than aid - and that people need information from around the world.

In consultancy, one of our biggest challenges was that it was hard to develop a strategy when there was a lack of information. As you may know in consultancy we have 4- or 6-week periods to develop strategy on something and you need to get data from the consumer in that period: we would be using traditional research companies like Kantar and Ipsos, and although they add value it was quite expensive and you wouldn't get results for 6-8 weeks, sometimes 12 weeks. Also a lot of the questions were multiple choice, so you only ask people for the answers when you already know the answers - and growth doesn't come from what you already know. You don't know what you don't know, so you should let the consumer speak to you in their own words.
So I built Streetbees as a platform to allow people to participate and share moments from their lives as and when they happen, and instead of asking multiple choice questions let them speak to us like a conversation. We pioneered conversational research. We do this with millions and millions of people so we get the depth of qual but also the robustness and accuracy of quantitative research.

NT: I was about to bring the words qual and quant into it and say 'Does that mean that you're scornful of quant and see yourselves as quallies - but you see yourselves doing both yes?

TB: Absolutely, you don't have to choose any more. It was always the case that you do some qual to test things, or you do some quant and fill it out with qual - and it was never the perfect solution because you have to integrate them. The solution we now have means you don't have to choose any more. You get the depth of qual because we capture open text, images and videos, but thanks to the NLP [natural language processing] and neural networks we have been training over 5 years we can analyse qual data at quant scale.

NT: Does this mean things are iterative at the early stages of your projects - you change the topics depending on what's coming out of it..?

TB: Great question, a lot of this works iteratively but not so much questions - this was one of the changes we made, we call this unstructured research. You are sharing a moment from your life, who else is around you, what is happening today, what are you planning for the rest of the day. We automatically add the time of day etc.. to comments and images so we get a lot of data points attached to those. What that means is you get a database with all the info you already need, and then run different algorithms on it to pull out [what you want].

NT: That means it's absolutely crucial how the analysis is done - how would you sum up the types of analysis available with Streetbees?

TB: All the time we're building analytical streams and currently we have 3. The first one is what we call Dynamic Demand Engine, basically a replacement for the traditional occasions or demand stations type of work - we do it on an always-on basis for people to understand the drivers of demand. The second one we call BrandX, which is brand experience, it replaces traditional brand solutions, and that works by understanding what exactly drives your brand choice vs competitors', in specific experience spaces. Then the third one is what we call Out of Home, it looks at restaurants and cafes and how people are interacting.

NT: Tell us about the 'Bees' - who are they and how are they recruited?

TB: So we have 3.5 million bees, active users around the world, buzzing around sharing moments of their lives. When I started the business, we focused on strategy and algorithms and we were kind of hoping we could just use another panel to provide the data. That didn't work out because we needed real life moments being captured in their millions and millions, and when we gave the challenge to the panels they are very much geared up for specific questions and 'claimed' answers, and not set up for real life moments. So we built our own from scratch.

We had to work hard at national representation. An app-based solution is be easy enough to do with younger people, by which I mean under-55, those groups were never a challenge for us. 55 plus could be more challenging and we had to address that. We changed things like font sizes and the UX generally to make it a lot more friendly (to appeal to the 55 plus group). Our research has to be nationally representative, as you are building mass brands on the strategies. At the moment we are representative in terms of income, age, gender and region; we operate in 150 countries and in all those we are able to provide nationally representative research.

NT: How do you recruit them?

TB: In a couple of different ways. To get national representation you have to recruit from different sources. We started with advertising through Facebook and Google, then we faced the challenge of accessing people who can't be reached that way. We wanted to go to tier 3 and 4 cities in China, rural India, modern cities in African countries and for that we started building our own ambassador network. We call them Super Bees - they go into local neighbourhoods, might be shopping malls or the exit from a church on Sunday, they basically explain what Streetbees is about and invite them to take part in our community. We did so much of this that about 20-30% - depending on the country - is acquired by our local ambassadors. This means we can reach groups who are lower income, less familiar with technology, etc.

NT: How do you incentivise SuperBees?

TB: They are incentivised on the basis of active users they bring in. The bees are also incentivised, but on a very different model. One thing we noticed with the panels, and one reason they didn't get us what we needed was because their incentive models were not quite right for this. If you pay people in points and they accumulate them till they can buy something from your shop, that's not interesting for most people, right? So what we wanted to do is give a fair share of our earnings back to the community. We have said from the beginning, 'your data is extremely valuable to us, you are sharing this with us, and we will share back with you, in terms of the value we can create with this'. So... the bees get paid... in cash!

NT: In real money? How do I join?

TB: You can download the app!

NT: What are you working on at the moment... what's exciting you about Streetbees right now and in terms of where you hope to be in a year's time? No trade secrets of course... unless you really want to.

TB: I'm a firm believer in transparency - we openly share our pipeline and where we're going. Our focus has always been in the moment research and we want to continue in that direction. We have fully automated data pipelines which means it takes us a few hours to get our results in front of our customers, the brands.

When it comes to the Covid-19 situation, we wanted to be able to help both governments and health organisations but also brands, to handle the situation, so we brought out a Covid-19 Human Impact Tracker ('HIT') and we're looking into what's happening in everyday lives under lockdown - to avoid COVID, to handle being in lockdown (home schooling, having to cook at home etc..). We are now also monitoring the recovery - the shape of it, what are people coming back to, when are they going to go out again, what does 'going out' mean, are they able to go to restaurants and bars? What is the recovery going to look like? We are in a very fortunate place because we have multiple years of historical data, to compare against, to understand the drivers: and we launched 'HIT' in January - this was happening in China, it was obvious that it was going to become a global challenge. So we've accumulated enough data by now to project how the recovery is going to happen.


NT: Are you doing this work for government, media, or for (other) private clients, or ..?

You can read the rest of this interview in the Insights in the Mobile Age supplement - pick it up right hand page right hand column here. The supplement contains 86 pages of content about the intersection of insight and mobile technology (if you count contributors' tales about their first mobile phones) and is free to read and download.

Streetbees' web site is at www.streetbees.com .

Interview date: May 1st


Other 21 YEARS / Mobile Age content now available (read and download the full supplement here):


Accuracy and Authenticity - How Smartphones Revolutionised Research, by Richard Preedy, Verve

Mobile Election Polling - Abraham Muller, CTO at Brandwatch Qriously, looks at how mobile methods can make election polling easier to implement and more accurate.

Delivering Great Mobile Qualitative: Four Keys to Success - by Ross McLean, Vice President, Mobile Qualitative at 20|20 Research

7 Steps to a Better Mobile Survey - QuenchTec Survey Designer Dennis Sewberath highlights seven ways to turn a survey into a 'beautiful conversation', for the sake of better feedback and higher completion rates.

You've Missed the Boat - RealityMine CEO Chris Havemann looks at the continuing opportunity for market researchers in a world of consumers and media changed almost out of recognition by the mobile revolution. Part 1 of 2.

...but there's another one along in a minute - in part 2, RealityMine CEO Chris Havemann looks at Why MR firms are 'fundamentally well-positioned', and where the immediate opportunities lie.

3 Mobile Marketing Myths - Andy Chandler, General Manager, UK & Ireland at mobile measurement and fraud prevention specialist Adjust, debunks three fashionable but misplaced ideas from this booming market.

Interview - Giles Palmer - the Brandwatch founder & CEO talks sifting through 1.5 trillion pages of data; pulling apart the Model-T Ford; and why our industry could grow fivefold in 5 years.

Little Did He Know - Mario Paic, Global Head of Data Science, looks at the rise of the smartphone and discusses its central role today at Ipsos Audience Measurement.

Did You Get the Message? Reach3 Insights CEO & founder Matt Kleinschmit looks at the rise of the mobile messaging-based Survey - with case studies from work for Jagermeister, Hyundai and Kimberly-Clark.


All articles 2006-23 written and edited by Mel Crowther and/or Nick Thomas unless otherwise stated.